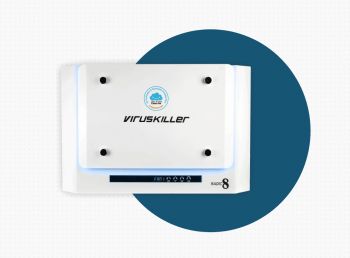 Air Purifier and Steriliser ** VIRUSKILLER** VK401
Download PDF
The VK401 "VIRUSKILLER" is the perfect air purifier and sterilliser for medium area. Combining pre filter, HEPA filter, activated carbon and reactor cell of 8 super UVC lamps with ~30 TiO2 hexagon filters makes it the ultimate solution for spaces up to
60 m2.
For combatting particles such as dust, pollen and dander, also super efficient at neutralising toxic gas, VOCs, viruses, bacterial, mould, and fungi, making it the best all-rounder in its class.
It is surface stood or wall mounted, uses little energy and has a quiet operation and unparalleled efficiency making it the perfect choice for home and work environments where people want the highest level of clean air.
It covers 60 m2 area. Air flow 240m3/h.