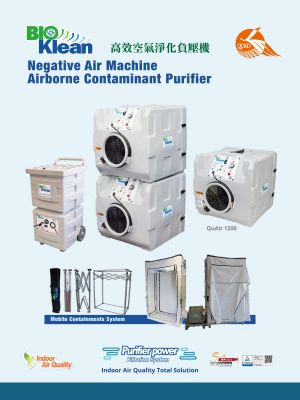 BioKlean Airborne Contaminant Purifier QuAir 1200_IAQ
Download PDF
The QuAir 1200 is a powerful and portable filtration system engineered for critical air filtration and odor neutralization. By combineing a true HEPA filter with DUAC(Dual Activation) filtration, it removes airborne pathogens and fine particles, prevents cross contamination by bacterial and viruses, as well as removing organic odor and harmful gases, prevents cross contamination by odors. It is one of the most efficient and portable filtration systems in its class.

*Tri gaskets and filter sealing flange guarantee leak proof operation.
*Antimicrobial PE case prevents mold and bacterial growth,it is seamless dent proof and virtually indestructible.
*Easy filter change with open access clip door.
*Audible & Visual alarms to signal filter replacement.
*Safe thermally protected and GFCI power outlet.